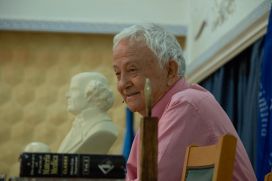 Language: English

Total Videos: 41

Total Time: 46 hours

Price: 380 €
The International Academy of Classical Homeopathy is offering the Organon Course with fresh and lively clarifications and analyses by Professor George Vithoulkas. This Course is ideal for all those who would want to refresh and deepen their knowledge on Samuel Hahnemann's Organon.
With his background of more than 60 years of valuable experience in Hahnemannian Homeopathy, Prof. George Vithoulkas illuminates each and every aphorism of Organon. The practical application of the Organon and its validity even in the modern times, when the chronic diseases have become more difficult and complicated, is the hallmark of this course.
"The Organon is the basic text that contains the substance of homeopathy and the spirit of Hahnemann. The one who comprehends its message can be called a real homeopathic physician" - Prof. George Vithoulkas.
Organon Lectures 2011 - 8 Hours
Part 1 § 1-3
Part 2 § 4-9
Part 3 § 9-25
Part 4 § 26-37
Part 5 § 38 & 33
Part 6 § 39-47

Organon Lectures 2012 - 13 Hours
Part 1 § 40-43
Part 2 § 44-50
Part 3 § 50-65
Part 4 § Q & A Session
Part 5 § 65-72
Part 6 § 73-77
Part 7 § 78-80
Part 8 § 81-87
Part 9 § 88-90

Organon Lectures 2013 - 12 Hours
Part 1 § 89-93
Part 2 § 94-104
Part 3 § 105-108
Part 4 § 109-112
Part 5 § 112-113
Part 6 § 114-124
Part 7 § 125-129
Part 8 Q & A Session

Organon Lectures 2014 - 5 Hours
Part 1 § 130-133
Part 2 § 134-136
Part 3 § 137-144
Part 4 Q & A Session 1
Part 5 Q & A Session 2
Part 6 § 145-148

Organon Lectures 2015 - 2 Hours
Part 1 § 149-153
Part 2 § 154-158

Organon Lectures 2017 - 3 Hours
Part 1 § 159-163
Part 2 § 164-170
Part 3 § 171-174
Part 4 § 175-186
Part 5 Q & A Session

Organon Lectures 2018 - 2,5 Hours
Part 1 § 187-193
Part 2 § 194-200
Part 3 § 201-203
Part 4 § 204-206
Part 5 § 207-208

Access to the Course will be for six months